Just as they have been a vital part of your pre-COVID-19 overall revenue strategy, group events and birthday parties will likely be a critical component of your recovery strategy.
While you may not be able to recoup all that your facility lost during your time closed, these seven tips can help you set up, manage, market, and sell your events once you're ready to offer them.
No. 1: Design your party space layout.
Events will naturally lead you to think about capacity and guest interaction management so take a step back and plan your spaces. Consider whether you will offer the same number of event time slots or if you will want to offer fewer options so you can increase the time between parties to sanitize party rooms and attractions before welcoming your next group in.
Also, consider your party room configuration. It may make sense to stagger party time slots differently to leave more space between occupied tables or rooms for parties that occur at the same time. If you previously allowed guests only one hour of reserved party room or table space, consider whether that still makes sense as you reopen. You might prefer allocating a party room for an entire event to help you manage the number of guests out in the facility at one time. It could also provide party attendees with more comfort if they want to distance themselves from the other events happening in the facility.
No. 2: Revamp your event and attraction schedule.
Once you know your space capacity, consider how you're mapping attractions, party time, food and beverage, and even game room time. In addition to reserving attraction and party room space, it might make sense for you to set up capacity controls in other areas in your facility, such as game rooms or staging areas, so you can better monitor the traffic flow of those areas.
For example, consider your game room layout and capacity. Not only is it a good idea to reconfigure your game room to accommodate more space between players, but setting your game room up as an area to be scheduled like other attractions can give you a firm handle on capacity and social distancing.
You should also analyze the traffic patterns to and from those areas. For example, if guests typically move from laser tag to a party room then to a ropes course before ending at the game room, does this order of attractions make sense based on where those attractions and areas are in your facility? It's possible that you'll want to group closely located attractions or areas together in Cascading Scheduling so that guests move through each area systematically and with minimal impact to other areas and attractions.
Once you have your schedule and layout planned, you can easily copy attractions to set up new schedules or reconfigure your party schedule in Advantage Groups to accommodate the new changes to available party time slots.
No. 3: Rethink your party packages.
Take time to think about your event packages. Do the same attractions and offerings make sense or should you adjust included items in packages to accommodate the new traffic flow patterns or room time?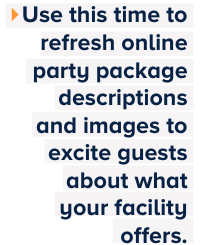 For birthday parties and some group events, if party hosts typically worked more than one party, consider moving to a "one host per party" model that ensures a host stays with the party the entire time to help attendees move through your facility and maintain proper social distancing and sanitization efforts. This has the added benefit of giving a more "premium" and personalized feel to your events, rather than just being part of a "new-normal" risk mitigation process.
Should you adjust the number of included guests or make changes to the number of players or adults included?  In the past, it may have been easy to allow a lot of non-participants, such as relatives of birthday children, but with different capacity management needs, it might make sense to include a certain number of adult admissions, food and beverage options, or attraction entitlements to have a better handle on party attendance, capacity, and revenue.
Remember that this is your second chance to make a great first impression, so use this time to refresh your online party package descriptions, images, and online upsell offerings to boost value, experience, and revenue.
No. 4: Get creative with event marketing.
We'll discuss smart marketing in more detail in Part 7 of our series, but when it comes to events, the key is creativity.  To help recoup some missed event revenue, pull a list of missed or past events and birthday parties during the time you were closed and craft unique messaging just for this group.
One idea is to send children with missed birthdays a belated birthday card with an invitation to come be "Mayor or Governor for the Day" of your facility, with a special button, crown or t-shirt, or some other type of special offer. You could even offer bonus incentives if guests rebook a canceled party now or for some time in the future.
Graduation parties and proms were missed as well, so think of ways you could offer unique experiences to those groups. Our sister company, Palace Pointe, posted messages on social media in April telling local high school students to "Save the Dress," and to get ready to celebrate a post-pandemic prom.  Use your facility's theme, mascot, and ties to the community to determine the best ways to achieve this.
Perhaps you segment customer lists for certain schools, counties, or zip codes and hold different events that you allow attendees to purchase individual tickets to attend through hidden web links in email messages. The CenterEdge Theater module allows you to create one-off events where you to sell a specific number of individual tickets to help you manage capacity and plan accordingly.
No. 5: Update your sales conversation language.
In addition to updated online sales language, it will be important for sales staff to be fully-versed in what measures your facility is taking to keep guests safe. Be sure they are ready with the answers to guest questions such as staff hygiene processes, sanitization and cleanliness efforts, as well as capacity management. Be sure that your staff is prepared with positive language and empathy as they're talking with prospective party planners. This helps guests feel well-informed and reassured that you're doing everything you can to provide a safe experience.
No. 6: Communicate early and often.
While birthday party staff and event sales representatives will likely give updated information to party planners as events are booked, now is the time to also update your communication efforts once a party is booked. In addition to including any updated information about social distancing, cleanliness, and capacity management, be sure to update any other important information about revised cancelation policies, arrival and end times, outside food and beverage, an event schedule, and the like.
It's also a good idea to add in a unique COVID-19 safety measures FAQ guide to scheduled automatic emails that you send out in advance of events, as well as include specific details in your event reservation forms and emails.
No. 7: Deliver a well-managed event.
We always want to operate efficiently, but it's mission-critical that your staff is prepared enough to get this right when you reopen. Things like increased health awareness signage for staff and guests as well as strategically placed hand sanitizer stations can go a long way to instilling confidence that your facility is safe. Consider using updated training checklists and role play, in addition to meetings or notices, as part of your overall training plan.
With staff, stage mock parties so that you can train, retrain, and confirm their understanding of every piece of the experience that has changed now that you're reopening. Be sure that everyone is on the same page and uses the same language when it comes to discussions around safety, health, and security measures so that guests have confidence you know what you're doing.
A thoroughly planned event strategy will help ensure your business is on the path to recovery. And as always, if you need any help making facility management system changes, don't hesitate to reach out to 336.598.5934, Option 2, or support@centeredgesoftware.com.
Want to see if CenterEdge can help you manage your events better? We can help. Schedule a virtual demo today. Or call 336.598.5934, Option 1 to speak with someone today.
Search Resources
Subscribe to Email Updates