Communicating with your audience and being able to adapt to your guests' needs quickly makes all the difference, according to Aubrey Christian, of Fiesta Fun Center in St George, Utah.
This week, we caught up with Assistant Director of Operations, Aubrey Christian, to hear what she had to say about the process of reopening. Fiesta Fun Center is a 7 acre indoor and outdoor venue that features bowling, laser tag, miniature golf, batting cages, bumper boats, a restaurant, as well as other attractions and games. Open now for nearly six weeks, Aubrey answers some of the top questions operators ask when considering their reopening plan.
Question No. 1: How did you change your operation to reopen to the public?
Christian: We re-opened May 1st when entering into the new phase guidelines set by our state. In Southern Utah, we are not as populated as some of the other areas that have been hit throughout Utah. We opened all attractions and we're running regular hours. For attractions like laser tag, bowling, and mini golf, we reduced the capacity to 50% and have placed 6ft markers for our prize counter, ride lines, and point of sale stations.
While we were closed, we offered online ordering/curbside pick up through Grubhub. A local radio station put businesses on a gift card page to help sales there. We offer bonuses for certain gift card amounts: $25 for $27, $50 for $55, $75 for $80, and $100 for $115. We're currently working on our online store to try and boost gift card sales.
Inside we rearranged games to provide more distance, particularly for games like Spongebob Pineapple and DC Heroes that people stand at and play for a long time.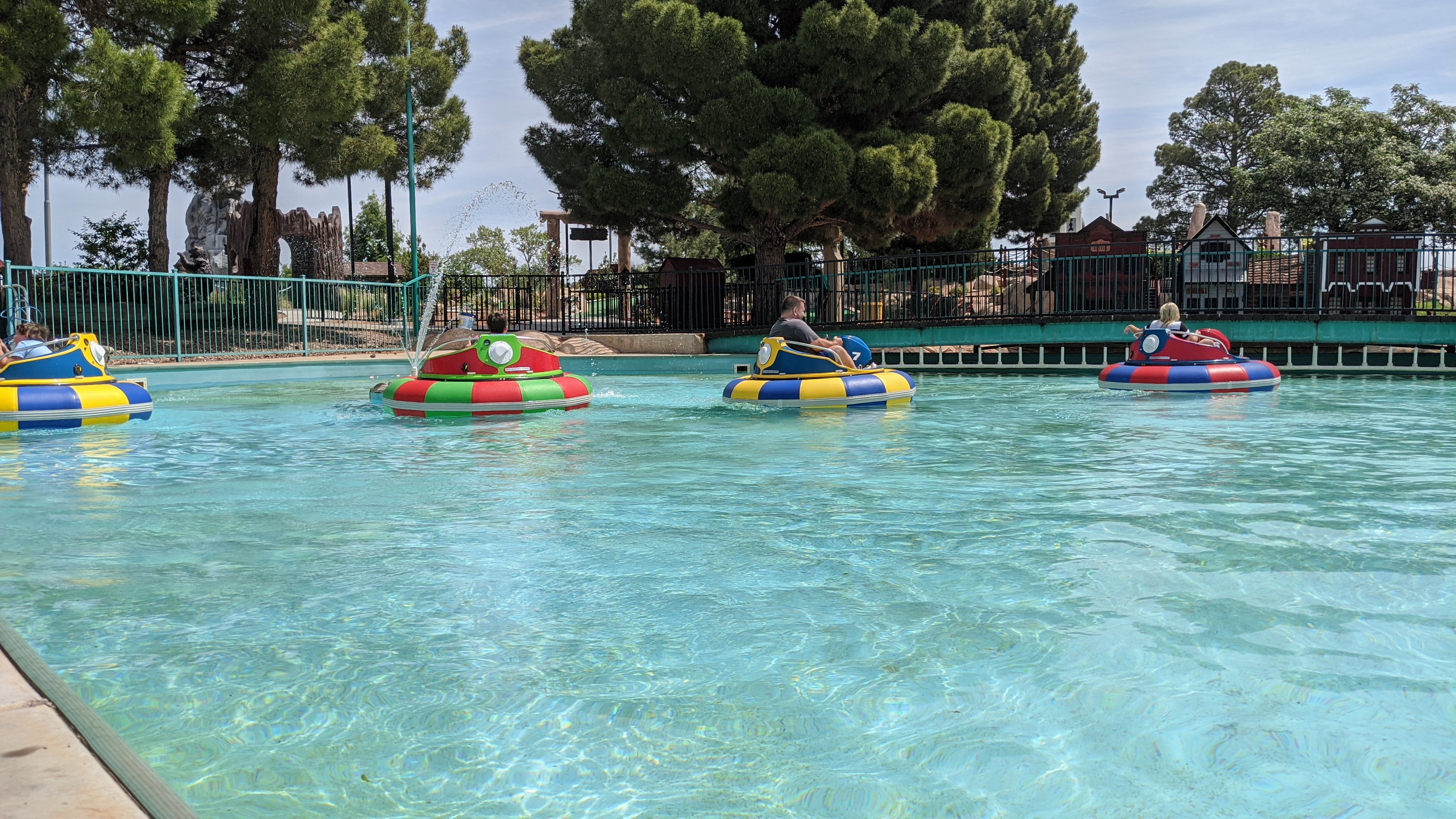 In terms of cleaning, we started an hourly sanitizing list for high touch areas. Things like credit card pin pads, door handles, benches, trash can lids, counters, and arcade buttons are cleaned multiple times an hour.
Outside, we started sanitizing karts and boats between each use. This took some time getting used to for our younger staff to get in the habit of, but no problems.
Question No. 2: How did you get staff used to the new procedures.
Christian: To get them used to the new processes, we heavily communicated with signs all over the timeclock, emails, breakroom posters, in person reminders, physical checklists, and hourly reminders on the radio. To some, it may have seemed intense but now it's a normal part of the routine and we rarely need to remind staff.
Question No. 3: Your facility maintains a large food and beverage presence. How has that changed since reopening?
Christian: Following Utah's guidelines for restaurants, we decided we wanted to offer a limited menu to see how sales went.  The menu was mainly based on what we still had once we reopened after going through so much inventory. The items we chose were also less labor intensive so we could schedule fewer employees. Pizza, fries, and chicken tenders were our main items for a while but we've slowly added things like wings, salads, and quesadillas. We also changed our operating hours; opening later, closing mid-day, and then closing earlier. This helped us manage the process of sanitizing the lobby from top to bottom.
In the beginning we were barely going through product, then May 15th, as we moved into the next phase, we saw a rise in sales. We've slowly added back menu items, and extended our hours. Most of our hour-extensions came from noticing more and more customers asking if we would open earlier or in the evening asking if they could still get drinks. Sales reduced during the lunch and dinner rushes and evened throughout a 12 pm to 8 pm period, so we extended an hour in each direction with success.
Question No. 4: What kind of marketing efforts have you employed during this time?
Christian: Our marketing strategy has been to show people we have been cleaning and that their safety is a priority to us. Google, Facebook, and Instagram posts have been our main channels to display this. We've also created radio ads to mention cleaning to and focus on our outdoor activities. I definitely recommend doing cleaning posts and using things like Google My Business posts or your social media stories so any negative comments go directly to the business for review.
At the beginning of June, we started our annual summer giveaway where we give away a $50 gift card each week at random on Instagram. We've toned down the cleaning posts and limited it to 2-3 per week and now focus on the outdoor activities to show that people are coming out and safely enjoying our park. We have had a great response here in Utah! A lot of people are ready to get out and return to some type of normal and we are here to offer a fun experience and an escape from their everyday routines.
Question No. 5: What's next for Fiesta Fun Center?
Christian: I feel like most FEC's are asking themselves this quetsion. Our next move is to start a bowling game night on Thursdays from 8 pm to 10 pm with bowling variations like red head pin, highest score, and other games. Using one of our party hosts we plan to offer trivia for prizes, raffles, and dance contests. Prizes might include things like free shoe rentals, free boat rides, and game cards. The main things is that the prizes will be for items that bring them back, or something they wouldn't do alone.
Also, we're still offering our Summer of Fun giveaways I mentioned that we've been doing on Instagram. It gets us in front of people not ready to come out yet, and shows others we are open and ready for some fun.
Special thanks to Aubrey Christian and the team at Fiesta Fun Center for sharing your unique perspective and best practices. Check out what they're up to on Facebook, Instagram and Google.
*Photos provided by Fiesta Fun Center.
Search Resources
Subscribe to Email Updates