I have spent the past week installing our Point of Sales and Group Reservation Software in 3 sites in Chicago, and what I have come away with is an entirely new appreciation for the power of well-run redemption counter to drive sales and repeat customers.
In other FECs I have visited, redemption games have held limited appeal because the prizes were typically geared to little children, or were of such poor quality that they were really little more than what you would find in a McDonalds Happy Meal.
So you can imagine my surprise and interest when I arrived at the facility of one of our newest customers, Enchanted Castle, just outside of Chicago. Their award-winning redemption center looked like something that belonged in a high-end shopping mall rather than in an arcade – with items ranging from collectable bobble-heads and autographed sports memorabilia to waffle irons, cookware and big-screen TVs. Frank Sikora, president of Trails Family Entertainment (Chicagoland's largest and oldest group of year round Family Entertainment Centers), took some time to explain their philosophy on redemption – "we don't see it as a prize counter, we see it as a store. If a customer comes in and wants a 60" flat screen TV, we will go get one for them and just tell them how many tickets it will be." Sure – they still carried spider rings and blow-pops, but it is the selection of quailty prizes that keeps people coming back and spending more.
After we talked I walked through the arcade again and looked at the variety of people playing the games. It was surprising to see the number of adults sitting at various games – not just waiting for their kids or grandkids, but actually there to play the games and collect their tickets. Watching one elderly woman carefully sorting her tokens and cards while she sat at the Wizard of Oz pusher almost made me thing I was in a casino rather than an arcade.
My mind immediately went to my last shopping excursion, when I took my 8 children to the stores seeking a gift for their mother. The short version – not the best time we have ever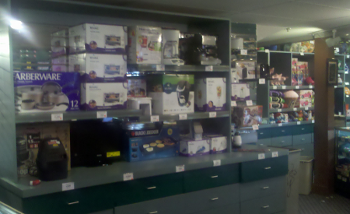 had as a family… I spent too much money, it took hours and in the end everyone was a bit grumpy. With Frank's model, I could have brought my children to the arcade and spent that same money and those same hours playing games and having a great time with my kids, then we could have taken our winnings and gone and picked out the same kinds of gifts for mom that we ended up buying at the mall. Mom gets quality gifts, kids and dad have great time spending the day at the arcade (without getting in trouble for it), and the FEC starts getting a piece of the mall business – I can't think of a better way to re-invent the arcade redemption counter.
Ready to see how Centeredge can help you make the most of your facility? Click the button below and see for yourself…
{{cta('f7740ede-639a-4474-88e3-69b5b8122178')}}
Search Resources
Subscribe to Email Updates