Introducing Dual Pricing with CenterEdge Payments
Dual Pricing with CenterEdge Payments allows you to eliminate nearly all of your credit card card processing costs.
There are many benefits of a dual pricing strategy, and with costs on the rise, now might be the perfect time for you to implement dual pricing in your amusement or entertainment venue.
Our CenterEdge team has been hard at work developing a seamless, integrated solution that will allow you to pass the costs associated with processing credit cards onto just the guests who choose to pay with credit or debit cards. And what's more? It's now available. 
Read on to learn more about Dual Pricing with CenterEdge Payments, and contact us if you'd like to learn more about implementing in your business.
Seamlessly Integrated with CenterEdge Advantage
Dual Pricing is integrated with the entire Advantage Software Suite so that you give your guests the choice in how they pay, regardless of whether they're paying instore or on your CenterEdge ecommerce site.
Onsite, Dual Pricing options are displayed at payment terminals at every station of your park. So whether guests are buying tickets, gift cards, food and beverage, or an event, they'll have the option of paying your standard cash price or an elevated card price.
Automated Card Pricing
When guests are ready to pay, you won't need to manually calculate the cash or card pricing for guests. Card prices are automatically generated to include a predetermined increased percentage so you never have to worry about doing the math.
The pricing options for cash or gift cards are automatically displayed alongside those for credit and debit cards, making it easy for guests to compare prices and decide the payment method they prefer.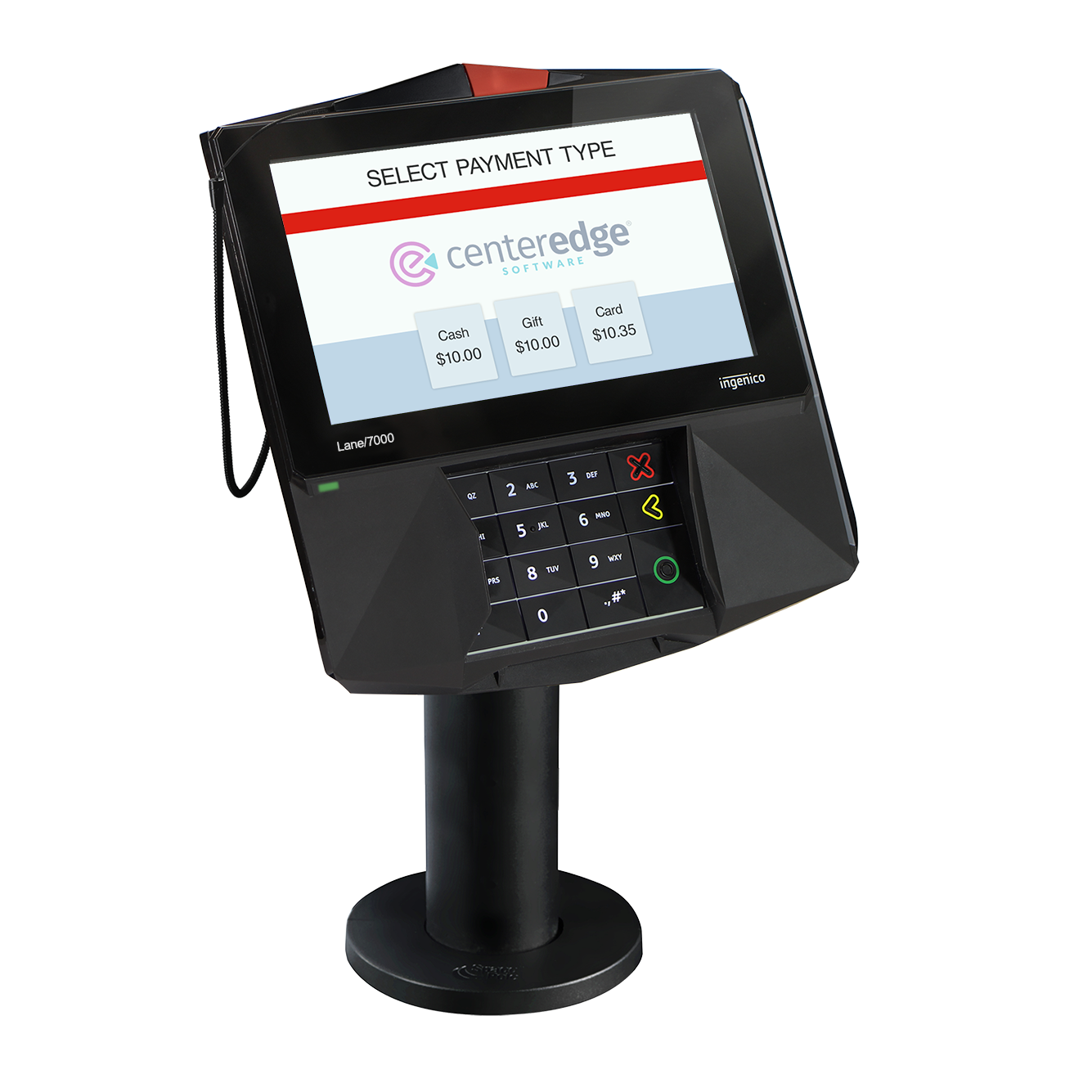 Guest Choice Transparency
Dual pricing programs are beneficial to your guests because they save you from having to raise prices across the board to help offset costs. And with the CenterEdge Dual Pricing approach, you go a step further by offering guests complete transparency at payment terminals. No sneaky hidden fees after cards are presented for payment, no signage of an impending surcharge. Just clearly displayed pricing for any payment type.
Besides the pricing options being clearly displayed online and on payment terminals, you'll also receive team training materials for use when explaining the options to guests, along with professional signage templates. This transparent approach will help you implement a dual pricing strategy successfully to your market.
Reporting Made Easy
When implementing a dual pricing program, proper tracking and accounting is key. With Dual Pricing with CenterEdge Payments, your system not only calculates elevated card pricing, but also automatically tracks and records processing costs separate from sales. This means no inflated revenue numbers and ensures that revenue and processing costs are tracked appropriately, with funds being deposited in your bank account timely and accurately.
As a CenterEdge Payments user, dashboards and reports help you understand cost savings and business metrics, so you always have a firm handle on every aspect of your merchant services program.
Served by the CenterEdge Team You Know
When you implement Dual Pricing with CenterEdge Payments, you can rest assured that you'll be supported by the same team you already work with if you're a CenterEdge user. This approach to payments helps you streamline business processes immensely, saving you time figuring out who to call, and reducing the number of service contracts you maintain. You have one call to make. Whether it's a payment or software question, we're partners with you every step of the way.
Dual pricing may be the perfect solution to help you reduce your operating expenses, and can save you thousands of dollars in credit card processing costs. If you would like to learn how CenterEdge's integrated dual pricing program can be implemented in your business, contact us at cepayments@centeredgesoftware.com.
About CenterEdge Payments
CenterEdge Payments is a transparent and simplified credit card processing solution for the family and location-based entertainment center, water park, amusement park, and specialty attraction industry. With consistent, clear, and concise pricing, and integration with the CenterEdge Advantage Suite of software, CenterEdge Payments offers value through our educated team members, low-cost approach, and by serving as a single source of contact for software and payments-related issues.
Search Resources
Subscribe to Email Updates