Meet the five Excellence Award winners and finalists of the 2018 Customer Service Week Challenge
We had such a great response for the Customer Service Week Challenge! Responses came from all over the U.S. and it was great to read about all the terrific things your team members are doing. From party hosts to admissions staff all the way to maintenance, it's so obvious when team members have that "it" thing that makes a difference. It was so hard choosing winners, but here are the top five winners and finalists who prove that "Excellence Happens Here" at their facilities.
Excellence Award Winners
Erik Sutuga, Court Monitor at Sky Zone, Sioux Falls, South Dakota
Erik is in high school and is a court monitor at our facility. I received a letter in the mail from a guest and a handwritten thank you note from a special little guest who was jumping at Sky Zone. Erik took interest in the little guy to help him get up our warped wall (like American NinjaWarrior).
The mom said she had tears in her eyes watching her son try and try and not accomplish his goal of making to the top. Erik intervened and coached the kid and worked with him until he made it!
Here is a quote from her letter, "There is so much hate and displeasure in the world, that when I see things like this, I had to make time to acknowledge it!! Erik's attitude and actions may have went unnoticed by others that day, but they DID NOT go unnoticed by me or my son!"
This is just one example of an employee that goes above and beyond the call of duty, every single day!
– Scott Redd, Owner
Bethiany Fritsche, Party Host at Fun Fore All, Cranberry Township, PA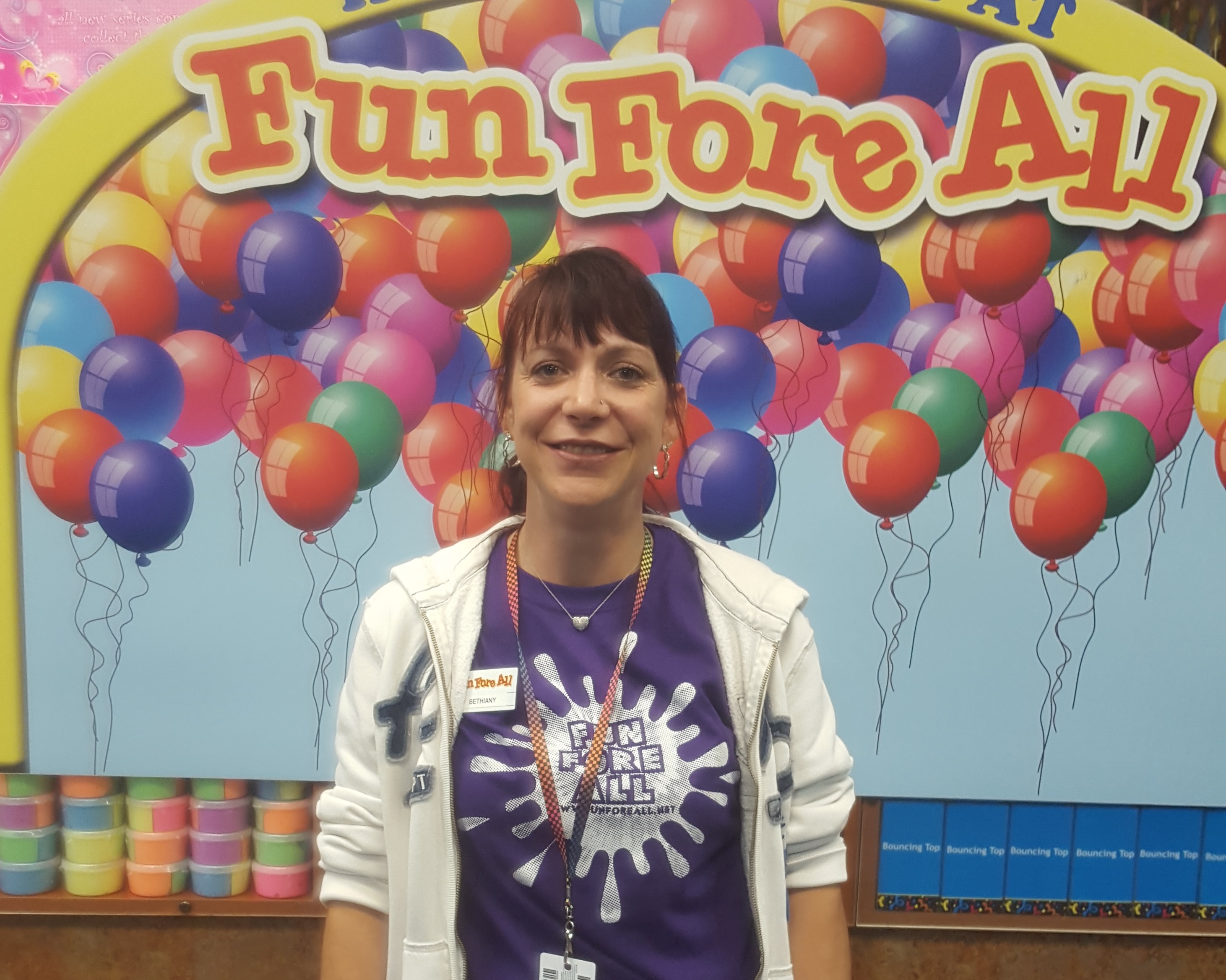 We have some great Party Hosts at Fun Fore All, but no one is better at making magic for a child's birthday party like Bethiany Fritsche! She is the most requested hostess we have and has more reviews on Facebook than the park itself it seems. All of her reviews are 5 star and her families come back year after year to have her be a part of making memories with them!
One guest recently commented: "We had the best birthday party experience! Our hostess Bethiany was amazing! She got everything set up on time, helped pass out food and drinks, and found me in the crowd to go over details which was so helpful. She is so personable and great with children…"
She always picks up extra shifts and parties and is willing to help out our staff whenever she can all while being the mom of a teenager! We are so lucky to have her!
– Tiffany Webber, Community Outreach Director
Devon Gentry, Office Manager, Launch Columbus
Devon is the Office Manager at Launch Trampoline Park in Columbus, Ga, but in reality, she is so much more! Devon strives to execute the company's Vision, Mission and Core Values in everything she does, always putting the company and the brand before herself. Devon has been A-1 from Day 1, being one of the original three hires (GM, AM, OM) for the Launch Columbus Park. She not only maintains the mountains of paperwork she is responsible for, but also keeps everyone else in check by reminding us why we are here as needed.
Devon is the glue that holds Launch Columbus together and I have never seen someone with such a positive attitude every single day! In addition to her regular duties, Devon also oversees every birthday party conducted at our park. Utilizing her dynamic customer service attitude, she works with parents that are stressed to the max and under intense pressure to ensure everything runs perfectly (and it always does). Further, Devon takes the time to send hand-written thank-you cards to every parent following the completion of a birthday party at our facility. This is something that parents have told me had a major impact on them becoming repeat customers at our park.
Launch Columbus is lucky to have her and wishes that she be recognized for bringing awesomeness to the table every day at Launch Columbus!
– Jonathan Pfeiffer, General Manager Launch Columbus
Excellence Award Finalists
Aashita Pahwa, Team Lead, No Surrender Adventure Park, Clovis CA
Aashi started off as a team member at the front desk — the heart of our facility. She has come a long way the past year and got promoted as one of our team leads/supervisors for her hard work and dedication. On top of being a full-time college student, she always makes her shifts on time or early. We can always count on her to make the right call in any situation. She knows how to handle customers and push that excellent customer service. She not afraid to bend the rules a little bit just to push that extra customer satisfaction. She can take an unhappy customer and turn the situation around and have them leave with a smile on their face. She also helps to push employees who are under her to grow and learn to problem solve in different scenarios.
Aashi was even mentioned in a 5 star review on our google account in which the customer stated how she was upset and Aashi made her visit all the better, "My family comes here frequently and have always had a super fun experience. I almost had a bad one today for the first time in 5 trips. Aashi, I believe is her name, was just amazing. We purchased some socks (from No Surrender) back in April that didn't have the logo on them and when I asked the woman charging us our tickets if we could still use the ones sold to us in April she said no and stated we needed to purchase new ones. I was upset seeing as I was told we could reuse those socks without purchasing new ones, however I still followed instructions and purchased new socks with logos. We put the new socks on and went back up to the counter to get wristbands and explained the situation again to Aashi and she completely understood and recognized that the socks we originally had were still valid to use and issued us a refund for the new pair we had purchased. Excellent service! She did it all with a smile and even mentioned she wanted to get our son playing ASAP. She saved our negative experience. Will continue to come back because of her kindness."
– Austin Sam, No Surrender Adventure Park
Niko Yang, Operations Sky Zone, Vancouver, WA
Niko is so dedicated to everything that happens behind the scenes, from CenterEdge maintenance to park maintenance. Niko's hard work is rarely recognized or even seen by our guests, but the duties he performs daily absolutely impact our guest experience in direct and important ways!
– Erin Sears, Operations Sky Zone
Congrats to the winners and finalists and thanks all for your terrific participation and for all you do to make memories each and every day! Have a great guest service moment? Tell us about it in the comments or on Twitter.
Search Resources
Subscribe to Email Updates