Summer's here! Isn't it great? It's a time when people seem friendlier (I think because there's less traffic). They can be found outside walking, riding bikes, eating ice cream, coming to our parks, hooray! It can be so easy to bask in the glory of all that business, but are your sales and marketing efforts taking a hit because you're so busy? Sometimes it's all you can do to stay in the moment, I get that. But the way to avoid that "feast or famine" kind of business is to try and capture the most guest visibility you can at each moment. Here are a few checklist items that can help you determine if you're making the most of those hot summer days.
Are guests being continuously wowed? When we get busy, it can be easy to let things like creating a welcoming atmosphere fall a little short of our usual expectations. At service counters, team members might choose speed over truly engaging guests. With line management, we might let the urgency of getting people through show on our faces, forgetting that we need to be part of the fun. Yes, we absolutely need to work quickly to get people enjoying our attractions, but not at the expense of "service with a smile." I have seen that done so brilliantly recently, at an extremely busy fast food restaurant no less.
I walked into a Chick-Fil-A last week for the first time in years. Where I live, they have two drive-thru lanes with cars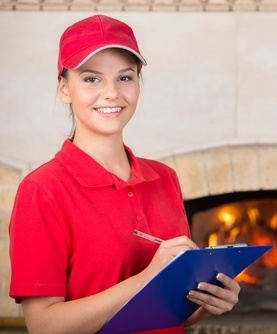 around the building for almost the entire day. As I neared the store, there were greeters outside working the car lines who made a point to say hello and welcome me. I walked inside and there were people everywhere! Guests looking at the menu, guests seated, guests ordering, guests waiting. Everywhere. What stood out to me, though, were the team members. Every single one of them was (genuinely) smiling. Every time one needed to pass close by me, they smiled broader, asked how I was doing, and maintained eye contact for the answer. They worked their stations quickly and efficiently, and when they were stopped on their way to deliver food, to refill a lemonade, or to "grab us another couple of ketchup packets on your way back, would you, dear?" they responded with "Absolutely!" and "It would be my pleasure!" without a moment's hesitation. That team had the magic touch. Does yours?
Are you showcasing what's upcoming? In-store marketing can become as invisible as the wall paper you so painstakingly picked out, so you have to apply it in layers and equip your teams to be talking about promotions and special events. Do you have a big July 4th party coming up? Is it posted everywhere? Are team members talking about it often and personally inviting guests back for it? Do you have it posted on the walls and in your digital signage? Have you thought about having team members hand out invitations to guests in the park to make guests feel like you really would love to see them again?
Are you encouraging guests to do the heavy lifting? The most viewed posts on social media are videos, pictures and shares. Do you have hashtags set up (and publicized so your guests know they exist)? Are you willingly taking pictures for your guests and asking them to use your hashtags or tag your park in their posts on social media? Of course you want to have a consistent social media presence in your community, but also encourage guest interaction online as well – and be sure you're reacting and engaging with their posts timely (the good AND the not so good)!
Are you maxing out your mailing list potential? Do you have someone (wonderfully, outgoing and engaging) near the front door talking to guests about coming back for a group outing or a birthday party and inviting them to join your mailing list or fan club? Position them in a high visibility area with lots of fanfare, a mascot or character, flower arrangements or balloons and make guests want to come back for their next event. Ramp up the fun with activities like drawings, prize wheels or money/ticket grabs to draw attention. Do this during your high volume days. Your sales team can use drawing entries to book future events, and your marketing team will have new people to add to campaigns throughout the year.
While we're on the subject of mailing list potential, if you're using a program like Kids Skate Free or Kids Bowl Free, are you maximizing your potential with those programs? Do your printable passes have ads and offers at the bottom? Does your team use upselling techniques when participants come and attempt to upgrade their fun? Are you downloading your summer birthday lists and personally inviting participants to share their birthdays with you? Do you look at your slowest days and, using your database, conduct some targeted outbound emailing? There's so much opportunity here–don't miss out.
Are you keeping an eye on what post summer should look like? Steven Covey said, "begin with the end in mind," which means deciding what you would like to see happen and then following
through with the steps necessary to succeed. If by August 1, you know you want to make sure you have your Back to School bash planned, and all of your local teachers ready to talk about next year's field trips, what do you need to do between now and then in order to win? You might also think about it in terms of what you wish you'd done differently last year as a baseline to make the process better. The key is that, while it is more difficult to keep focused when we're busy, keeping our finger on the pulse of sales and marketing really is a hole in one.
Have other ideas to keep on top of summer marketing? Share them with us on social media or send them to clientsuccess@centeredgesoftware.com.
Search Resources
Subscribe to Email Updates